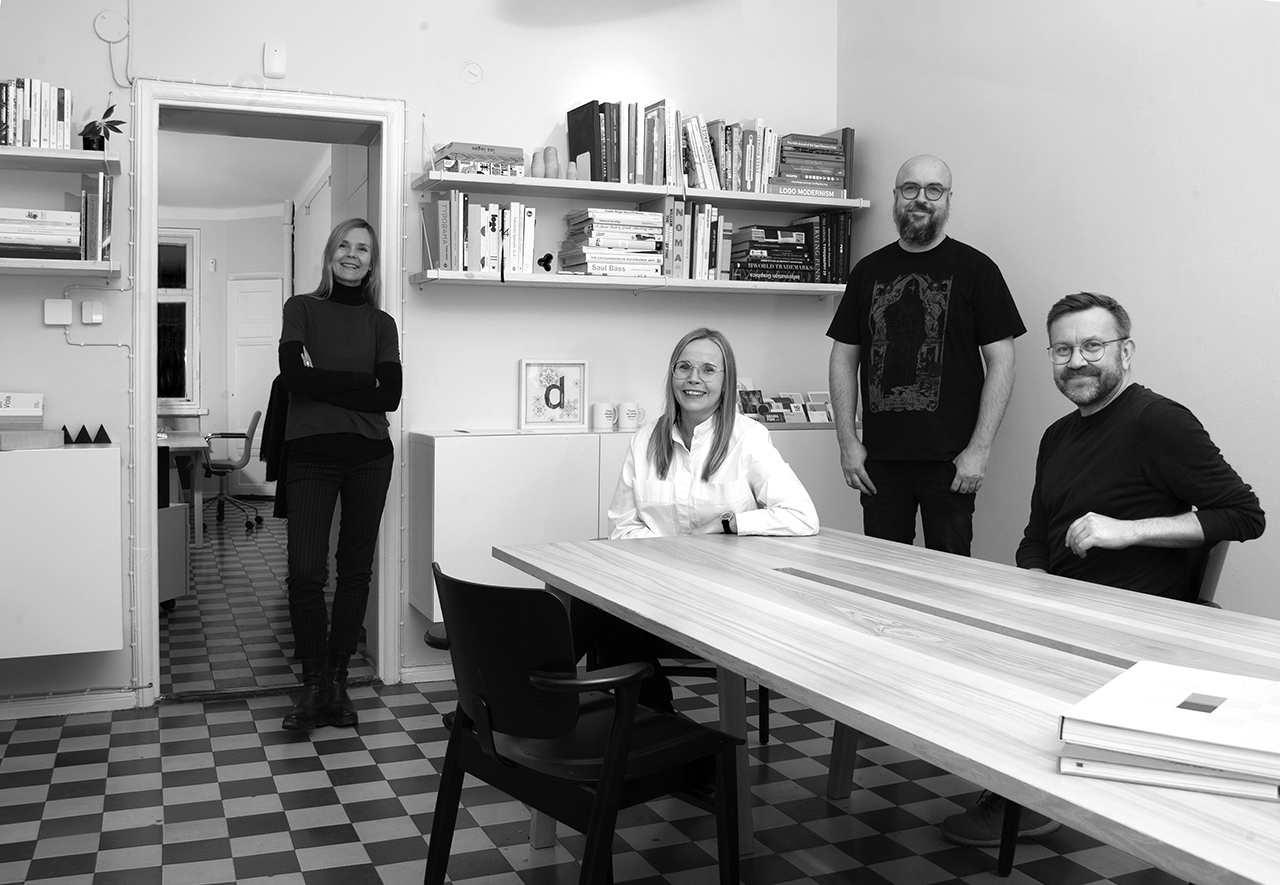 Eeva Sivula, Ilona Ilottu, Janne Koivu & Petri Salmela
We are a visual-design office – a team of top professionals with a great set of artistic thinking skills.
Our aim is to accentuate client companies' best aspects, to create meanings for products and services, and to evoke vivid experiences.
Our passion is tailoring worthwhile end results that match the agreed goals for each client.
---
Our Clients
Aalto University, Amos Rex, Ars Fennica Art Foundation, Arts Promotion Centre Finland, The Artists' Association of Finland, Avanto Architects, Ateneum, City of Turku, Bonnier, The Chemical Industry Federation of Finland, City of Helsinki, Dammenberg, Duodecim, Elam, EMMA, The Finnish Commerce Federation, Finnish Federation of the Visually Impaired, The Finnish Food and Drink Industries' Federation (ETL), The Finnish Literature Society, Finnish Red Cross, Fiskars, FinFami, FinnFund, Finnish Book Foundation, Frame Contemporary Art Finland, Funidata, Grafia, Hackman, HAM, Hotel Punkaharju, IHME-Helsinki, Iittala, Kekkilä, Kiasma, Kone Foundation, Learning Centre for Architecture and Design, Mathildedal village brewery and bakery, Matildan kartano, Mesenaatti, Ministry of the Environment, MMA, Moomin Museum, MUJI, The Museum of Finnish Architecture, Ornamo, Otava, Posti, Skanska, Supreme Court, Tammi, Teos, Teurastamo, Unigrafia, YLE, Åbo Svenska Teatern